Jonathan Edwards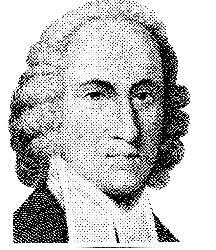 Jonathan Edwards is often caricatured as the stern Puritan who preached fire and brimstone sermons such as his notorious "Sinners in the Hands of an Angry God". Yet Edwards was also America's preeminent genius of the 18th century. Besides being a moving force in the Great Awakening, Edwards was a relentless speculative scientist, an acute psychologist, a world famous theologian and philosopher.
Edwards first came to Northampton in 1726 to assist his grandfather, Solomon Stoddard, in his ministry. When Stoddard died in 1729, the young, but brilliant, Jonathan Edwards took his place. From contemporary accounts we learn that Edwards would often take long rides through the meadows, deep in contemplation. As ideas came to him he would write them down on scraps of paper and pin them to his cloak. When he returned home, literally covered with thoughts, his wife, Sarah Pierrepont Edwards, would arrange the notes for his future use.
Edwards was impressed with John Locke's notion that all knowledge comes through the senses. Edwards believed that we can know God's grace through nature. "I felt God, so to speak, at the first appearance of a thunderstorm," he wrote, "and I used to take the opportunity at such times to fix myself in order to view the clouds and see the lightnings play, and hear the majestic and awful voice of God's thunder, which often times was exceedingly entertaining, leading me to sweet contemplations of my great and glorious God."
But to Edwards, sin was also a loathsome reality. He was alarmed at the laxity and lack of fervor that had befallen Puritan religious practice. Churches no longer excluded the unconverted from the sacraments, and outward decency was considered sufficient evidence of inward sanctity. Above all, a growing preoccupation with material comfort had made his congregation spiritually complacent. Edwards tried to counter this by concretizing the abstractions of sin and punishment into vivid descriptions of eternal damnation. Although he delivered his sermons in a controlled monotone, the images that he created in the minds of his parishioners unleashed a religious revival in the 1730s that paved the way for the Great Awakening that swept through all of British North America in the 1740s.
Edwards' preaching had been marvelously effective, but he had made serious enemies in the community. There were those who resented Edwards for setting aside the more liberal doctrines of his grandfather, Solomon Stoddard. Others feared that the emotions released by revivals were dangerous. Still others chaffed under his moral strictures. Influential families had been humiliated when Edwards publicly rebuked their adolescent children from the pulpit. These controversies finally led to his dismissal in 1750 - a decision his congregation later came to regret.
Edwards spent the next six years as missionary to the Indians at the frontier outpost of Stockbridge. It was there that he wrote his most well known theological treatises. Edwards was then selected to become President of what is now Princeton University. It was an honor he did not live to enjoy. He died in 1758 from a smallpox inoculation.
Sermon by Jonathan Edwards, Safety, Fullness and Sweet Refreshment in Christ
Jonathan Edwards Resources at Yale University