Daley & Halligan
Orators…are usually flattered by having a numerous audience, but I am ashamed of the one before me…. Are there men to whom, the death of their fellow beings is a spectacle of pleasure, an object of curiosity?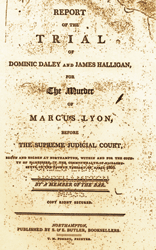 Contemporary Transcript of the Daley & Halligan Trial, c. 1806
So preached Father Jean Lefebvre de Cheverus, a Catholic priest, at the request of Dominic Daley, 34, and James Halligan, 27, in a sermon delivered before their execution in Northampton on June 5, 1806, for a murder they may not have committed.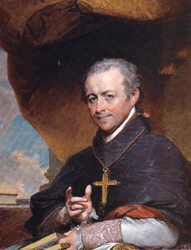 Father Jean Cheverus said the first Catholic Mass in Northamton for Dominic Daley and James Halligan before their execution in 1806.
While traveling from Boston to New Haven, Daley and Halligan were arrested on November 12, 1805, after the body of Marcus Lyon was discovered on Wilbraham. Accused of murder, they were incarcerated in Northampton while their captor received a $500 reward. Although the Commonwealth spent five months preparing its case, Daley and Halligan were assigned defense attorneys just 48 hours before the trial.
Defense attorney Francis Blake of Worcester expressed outrage that Daley and Halligan were arrested due to ethnic and religious bigotry: "When a crime of unexampled atrocity is perpetuated among us we look for an Irishman…."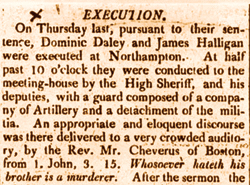 A contemporary Northampton newspaper carried the story of Daley and Halligan's execution.

The jury deliberated only a few minutes before pronouncing a guilty verdict on the same evening the trial began. Sentenced to be hanged, Daley and Halligan appealed to Father Cheverus in Boston to preach the sermon prior to their execution. Denied lodging at the Tavern of Ashel Pomeroy, Father Cheverus stayed with Jonas Clark, who suffered reprisals from his fellow citizens. At the jail cell of Daley and Halligan, Father Cheverus celebrated the first Mass in Northampton. Some estimated 15,000 people came to Northampton to view the execution.

On St. Patrick's Day, 1984, Governor Michael Dukakis issued a proclamation exonerating Daley and Halligan.